Hey, you 👋
If you randomly landed here, let me introduce myself: my name is Lucien, and I am a freelance developer specializing in "nocode". In addition to launching Bootkamps, our platform for creating, selling and running live online trainings in (small) groups (aka bootcamps), we've decided to set up this blog. It is aimed at all those who are interested in entrepreneurship, the Web in general and freelancing.
With Emeline, our copywriter on this project, we will document our progress, thoughts, failures, and, hopefully, our successes too, in the tradition of transparency pioneered by other "open startups" before us (like Buffer and since then many others). We hope you'll enjoy your reading!
Here's what this first article will cover:
Where the idea for this project came from
How the team was constituted
The creation of the marketing website with a nocode platform
The Version 1 we are considering for our platform
Are you ready ? Let's go !
Disclaimers
Just before you get started, I wanted to warn you that on this blog there will be:
Some broken English here and there, and sometimes everywhere (we will do our best);
Some technical topics, but not too much (this is not meant to be a tutorial series);
And some stories about surfing 🏄🏻‍♂️ because, with Emeline, we like that a lot (not really any other good reason beyond the fact that we see in surfing a lot of lessons that can be applied to our work).
In any case, this is the story of our "take off" 🏄🏻‍♂️ (at least our attempt). We'll be sharing concrete and practical lessons so the time you spend here can hopefully be both entertaining and profitable.
Where did the idea come from?
After the failure of my first startup (a mobile application for the financial markets), I became interested in nocode tools as I wanted to learn how to bring my next ideas to life by myself without having to hire a developer and/or raise funds (two things that proved to be very painful throughout my first project). I particularly focused on Bubble.io, one of the most powerful and versatile out there. I "invested" several months full-time to train myself (especially thanks to this Udemy course which put my foot in the stirrup).
After several years living the full-time entrepreneur life, my finances didn't look good, so I decided to transition to freelancing in order to keep learning nocode programming while being paid for it. I did it first for clients, and later moved on to working exclusively for agencies (also entirely specializing in nocode applications). I don't really believe in all the "finding your calling" thingy, but I had truly discovered something I was enjoying doing for the sake of it. So much that I have devoted the past 3 years to it. This allowed me to become really proficient with the Bubble platform, and to eventually be offered the opportunity to facilitate nocode bootcamps organized by Contournement, one of the pillars of the French-speaking nocode community, as well as bootcamps organized by the Bubble company itself.
There are literally tons of platforms for creating online courses (Podia, Thinkific, Udemy, etc.), for organizing video conferences (Zoom, Google Meet, Whereby, etc.), or for managing communities (Circle, Discord, Slack). However, no solution seemed really dedicated to creating and facilitating bootcamp-type trainings, i.e. programs of live training in small groups, with follow-up and discussion between sessions (which are usually paced a week apart). We had to use a combination of tools, and send ourselves links and calendar invitations, which were all over the place. It's during this period (summer/fall 2020) that the idea for Bootkamps came to me.

Two years earlier I had launched a somewhat related project called Teaddl. This one was a platform dedicated to the running "standups", these daily meetings you do with your team (also called "huddles", hence the name team + huddle = Teaddl). The project did not go very far (only one paying customer and $40k in turnover in 2 years). Maybe it was because of the name (laughs), but in any case it means that today, as I'm writing this (end of December 2020), I have a pretty precise idea of ​​how I can technically develop and scale a similar platform, this time focused on video conferencing (rather than sharing and tracking KPIs).
How I built the team
If you have more inclination for the technical sides of things and/or the product in general (like me), you will need additional skills to launch your project. This is how I solved it for Bootkamps .
Finding a marketer
Through my previous projects, I had realized that communication was key, if not essential. So for Bootkamps , I decided to get started right away, even before having a first version of the product ready.
Being not so great in the field (still according to my previous experiences), I started looking on Malt for someone with a well-honed pen and in-depth knowledge of social networks. This is how I got in touch with Emeline, a freelance copywriter and digital marketing expert based in Bali.
We agreed on a recurring budget level ($400/month), a media plan (blog and social networks), and we were off to the races! It may seem for some that I'm putting the cart before the horse. It's not totally untrue. Hiring a freelance at this embryonic stage of the project is definitely early. But having little free time, I have to outsource parts of the work if I ever want to launch and reach my audience. In addition, I like the idea of ​​surrounding myself with more competent people to learn from them.
Outsourcing is also the best way in my opinion to test a collaboration without getting down the road of infinite discussions about compensation and company equity (especially equity in a project that has nothing really concrete yet). This does not rule out opening your company's cab table to them later if things go well. Above all, it allows you to get started much faster (than if you do everything yourself, including what you're not good at) and for less (than if you had to hire). Because, let's be realistic, in 2020 (almost 2021), experienced people (the ones you want) no longer accept to work only for stock options in a newly founded company (except if you already have a success to your credit perhaps).
Hiring a designer
The next step in my process was to have some basic branding, because very quickly the need arose to have a name and a logo to put here and there. As designers charge substantially high prices ($1,000-3,000) to come up with a visual identity for you, I turned to Fiverr for a more streamlined and more affordable service ($180 for several options and a handful of revisions). Here is the chosen logo:
My view on this: it's not worth overthinking your branding at the start, because that's not what will dictate the success or failure of your project (and you can always rebrand for your "official" launch later).
What works all the time: go with the most obvious keyword (in this case, "bootcamps") and if need be a slightly modified spelling (the "c" becomes a "k") so that the .com domain is available. Then use Fiverr or a similar platform to quickly get logo options (be careful that your logo is easily understandable at different scales, even very small, such as for example for the favicon of your site). I highly recommend Mattia , who has been both quick and accommodating, and to whom I look forward to entrusting future branding and design developments for Bootkamps .
Creating our showcase site with a nocode tool
To create a showcase site and a blog, there is really a lot of choice (Webflow, Wordpress, etc.). As I wanted something efficient and that would not require spending too much time on design or technical aspects (hosting, etc.) I opted for Umso. I am a fan of the speed at which you can launch a complete site with this platform. It literally takes minutes.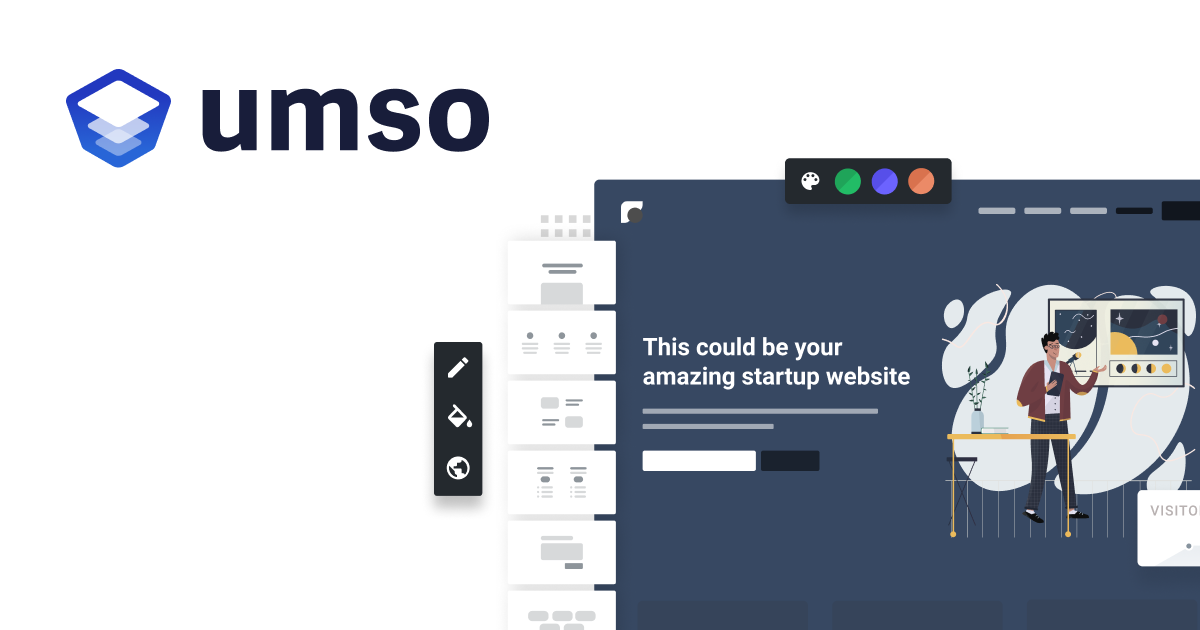 One thing to note about Umso thought, is that as of today it does not offer multilingual content. As I have decided to launch in both English and French (not very "lean" you might say, but I would like to see in which market I can get more traction), I have to maintain two sites and two blogs, on two different domains (bootkamps.com and bootkamps.fr). However, this is not as painful as it sounds, because Umso really makes editing sites and blogs extremely fast.
Beware, this is not really a good practice in terms of SEO: if the logic is purely targeting according to the spoken language, it is better to have everything on a single domain, and to flag to Google that a French version is available at .com/fr. I hope I won't regret it later, but right now it was the fastest way to get the project going (and speed, at this stage, is essential). Umso should allow multilingual soon, so if it doesn't happen too late I will make the switch then. This being said, it's not the end of the world either: some sites work very well with different domains, such as Shopify with its blog in English at shopify.com/blog and its blog in French at shopify.fr/blog.
The V1 of our platform
With the marketing base now in place, I can focus on creating the product itself. I have already set up some elements of the interface to have visuals for the landing page, but other than that, as of this writing (we are still at the end of December 2020), nothing really exists yet.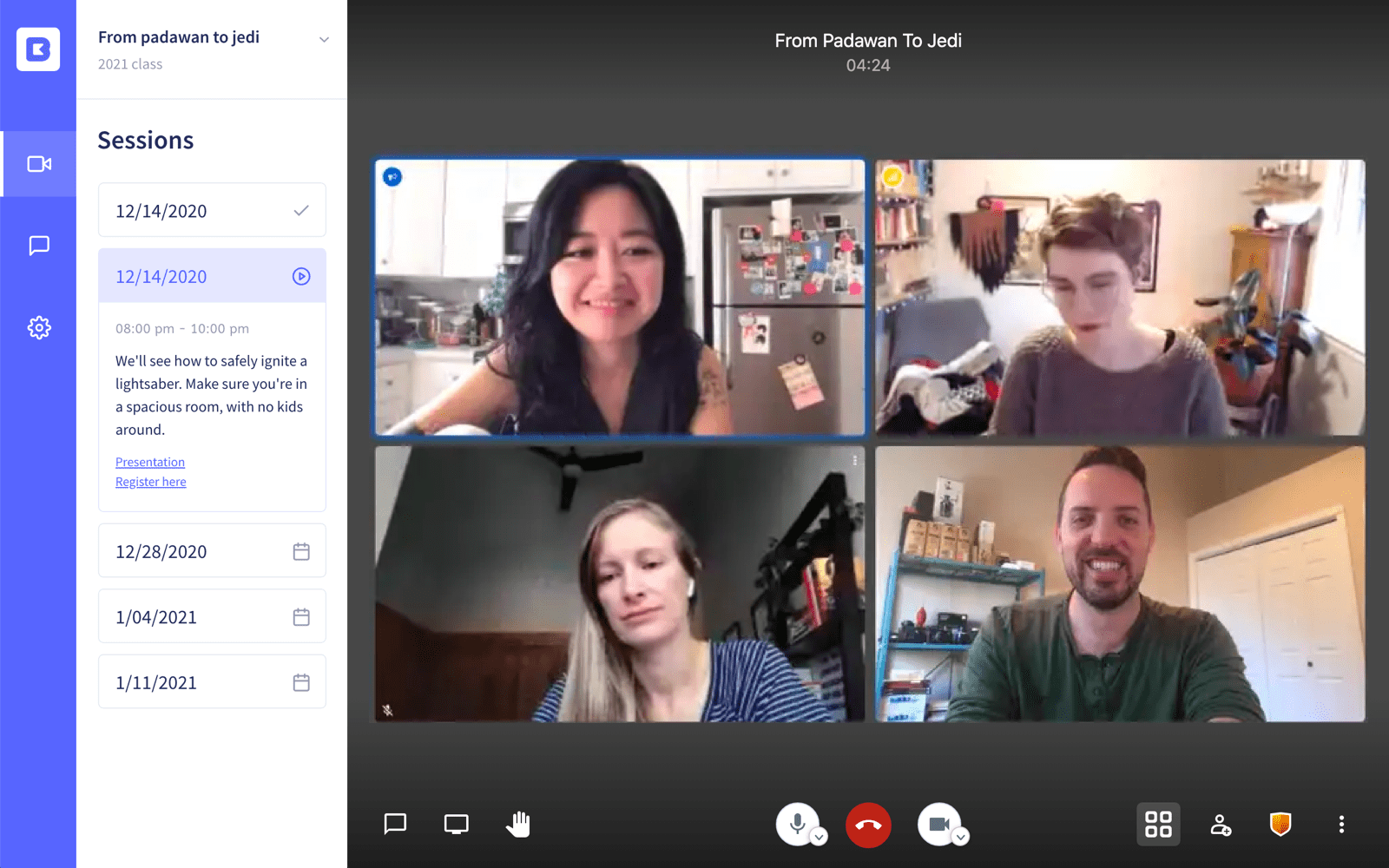 The target is to launch a first version by the end of January 2021 with Bubble.io (the nocode platform mentioned earlier). A deliberately short deadline given the fact that I work full time for a web agency (AirDev), but it is by setting ambitious deadlines is partly a way to force oneself to work faster and leaner (at least it works for me). This V1 should make it possible to plan videoconferencing sessions, invite participants and instructors, and communicate between sessions in a fluid/casual manner.
Here is the detailed scope in this Google Doc of what I'm planning to build. This document is a simplified version of the format that we use with the agency to scope client projects. This V1 is by no means an "MVP". Indeed, the MVP was rather the patchwork of Google Sheets, Slack channels, Google Meet/Zoom links and email communications that we used during Contournement's and Bubble's bootcamps, and which allowed me to understand the most essential needs for Bootkamps. No, this V1 aims to be an "MSP" (Minimum Sellable Product). The expected validation will therefore involve the acquisition of the first paying customers (invoicing will be managed outside the platform at this stage).
We look forward to seeing you in January for an update on the development of the platform. You can sign up for the newsletter below👇
We wish you a happy end of the year, dear makers, indiehackers, startupers, and freelancers. Let's hope that 2021 will be full of new and successful projects for everyone!