When Lucien contacted me last October, I (Emeline, hidden behind the first-person singular personal pronoun) bounced off the walls and then, calmly responded, employing my most beautiful words ✍️
But why was that email received with such enthusiasm, you might be asking yourself? Not because I wanted to expand my Rolodex of clients (and you'll find out why further down this page), but because Lucien approached this mission through the lens of "collaboration" and not just as a "job".
Collaboration means sharing, meaningful discussions, two-way exchanges, building ideas, sharing knowledge. This project proposed by Lucien made my eyes twinkle with impatience and my head bubble with ideas.
For me, it was the PERFECT freelance scenario par excellence: start from zero, lay a foundation as a duo, construct the walls little by little, shift our thoughts and then re-sculpt them if necessary. Thanks to Bootkamps, Lucien was able to offer me the key to create freely, to write and, moreover, to work remotely from Indonesia.
Conditions and values that are very dear to my heart, boost my productivity and inspiration on a daily basis and which ultimately have shaped me into the freelancer that I am today.
Because you're not born to freelance but have to actively choose that path, today I'll explain my path from "accidental freelancer" to "digital nomad blossoming in Bali".
1/ As a Happy Graduate, I Fell in Love with My Profession.
After a 2013 spent between London and Chicago, I sadly returned to France. The reason? An internship in Paris starting in January of 2014. And although I was angry at the city before I had even stepped foot in it, I smiled, nevertheless, at the idea of joining the beautiful company of Aigle. It was on the flanks of my incredible manager Raphaëlle and my top-quality co-pilot Nico that I spread my new-and-improved wings.
Those six months of learning almost made me forget that I was trapped in the French capital, my personal bastille. However, the internship turned into a job offer. Joy and woe in one, I was to continue living à la Parisienne. Note that I still refused to use the term "settle" because all I dreamed about was packing my bags and fleeing abroad.
2/ Travel, My Anti-Gloom Solution and Creative Spark.
At the office, the projects come and go, and the months go by, but as far as my personal life is concerned, I lose track.
I slam on the "Survive in Paris" button and allow myself to journey beyond its borders every month. With low-cost airfares at my fingertips and with my passport and pen as travel buddies, I hop on the plane ✈ Alone or with company, I rationalize by telling myself "those who love me will follow me". A return flight that costs the same as a night out in Paris (beers, charcuterie board and an Uber home) is not to be sneezed at. All at the cost of around €100 I caught the RER train to what I called paradise (airport also works, or at least it did back in 2015 🙄 🦠 ) with a smile on my face, and a bag on my back.
From Spain to Italy and England to Greece, each getaway left a strong cultural mark, colored by emotions, that would not be erased. The more trips I took, the more I wanted to free myself.
Not being able to run away from my Parisian responsibilities when they called, I escaped on paper as soon as I had some time during the week. This is how I started writing more in the evenings and escaping from it all at the weekend.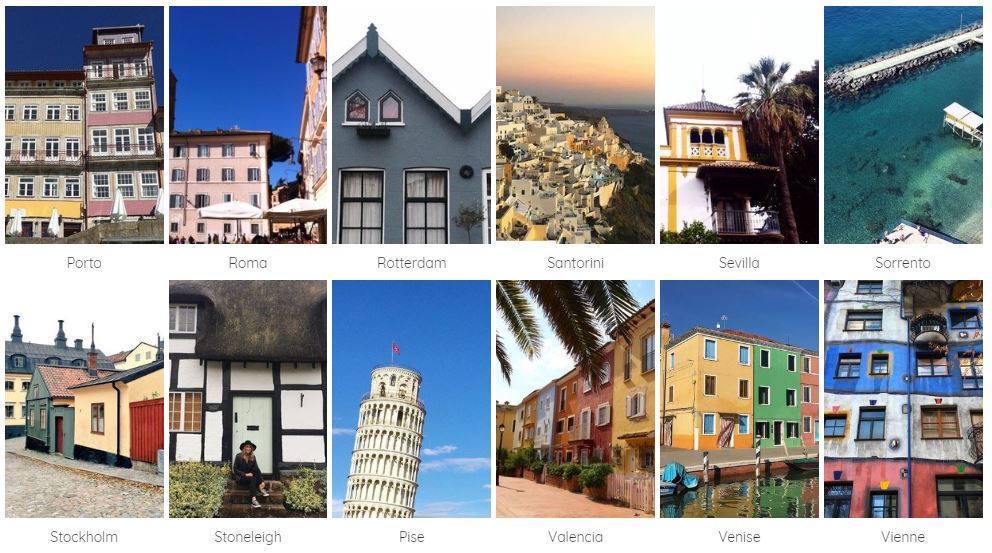 3/ Attracted by the Payoff, My Old Boyfriend Convinced Me to Become a Freelancer. Freewhat?
Speaking of escaping, my boyfriend at the time had a suggestion for me (nay, obligation #hothead): "Register as self-employed entrepreneur." A fast and free formality that, according to him, would allow me to make the most of my professional potential and earn more money while doing so 🤔
In all honesty, I didn't really want to "work" outside of my full-time job, which already took up too much of my time (at that time, after two and a half years at Aigle, I decided to fly the nest and landed in the empire of lingerie and pantyhose: Dim. As Global Social Media Manager at Hanes, I was in charge of social media, strategies, tools, agencies, and countries. On top of this, my experience was enriched by Stéphanie, mentor sent from the gods).
You have probably heard the saying "you learn from your mistakes" a million times before. I always thought that my ex-boyfriend hadn't done me any good. But I have since realized that, because of his stubbornness, I am a more well-rounded person, both thanks to and without him 🙃 Mistake theory proven! (if you've never heard of it before, the theory relates past failures to future successes, which results in the following formula: (failures x Past) / ((acceptance + maturity + lessons) x Present) = happiness x Future).
4/ I Did Some Work for a Friend without Asking for Payment in Return
September 20, 2016: Voilà! I was now registered and listed in the trade directory. But I still don't know if "URSSAF" (The French social security organization) was written with one or two "F"s at the end. Quite frankly, I entered the big league with a level of expectation that bordered on non-existent. Once again, my status as "employee" suited me well. Becoming self-employed was far from a priority. On the other hand, living abroad was a huge dream of mine, and had been for years.
When suddenly, the famous "it will happen when you least expect it" knocks at the door. A friend asks me to give her a draft of an editorial calendar as well as some examples of captions. Flattered, I put together a few posts and was doubly excited to see that she was too! "How much do I owe you?" - I hadn't expected that.
I had never thought about giving my skills a second life outside of my 9 to 5 and the company I worked for full time. The one I belonged to. The one and only thing responsible for adding a few euros to my bank account at the end of the month. But in the realm of the possible, the myth of the wage-earning employee gradually faded and I finally understood that my work could be valued in a different way.
5/ Occasionally, I Give Some Social Media Advice Here and There.
I advance step by step along the freelancing path. I do a bit of work through Malt and, from time to time, I am happy to give out some advice to friends and ex-colleagues, with or without receiving payment. Instead, in exchange for my words, it's generally lovely words of encouragement I receive ("Your writing is super, do you have a blog?" / "Honestly, what are you waiting for? Write a book!")
6/ My Passion Project (Commonly Known as Come & Follow Me) Sees the Light of Day.
From boots to panties, happy but too busy, I type on my keyboard without noticing the hours or the subway stations go by. Once I have inserted the Instagram captions and hashtags, once I am at home, I pick up my pencil again and embroider words and ideas on my chosen fabric, a piece of paper.
2017 was on the horizon bringing my turning point with it on New Year's Eve: the birth of the Studio des Beaux Mots, Come & follow me 🎉 So there I was, on December 31st, sat on my parents' couch, dressed in pajamas with a cheesy grin on my face, I sketched out some possible logos, bought a typeface and positioned words on a white background (using PowerPoint of course - Illustrator and Photoshop had no valid reason to exist in my opinion). Even after the perfect New Year's Eve spending quality time with my creativity and meticulousness, I have no idea that three years later, I would be running my e-shop from the tropics 🌴
7/ From within the Walls of Paris, I Struggle to Find the Way Out.
2018: after three round trips to the US in less than four months, returning to Paris devastates me. I dream of adventure, exile, nature and the ocean. The gray and concrete of Rueil Malmaison gives me chills, my anxiety attacks multiply and multiply some more. I started to think that maybe the only solution to my problems was to drop everything and go.
8/ Bye Bye Amsterdam, Hello Crazy New Project!
Secretly, I prepare for my move to Amsterdam, with more and more interviews and, cocooned this dream, I cross the canals telling myself "very soon, I'll be there, for good, on my bike".
Although my personnel badge is almost ready, the evil European Director of my soon-to-be job's company (Intersport) leaves me in suspense: his dilemma? Whether or not to freeze the budgets. With this up in the air, the team asks me to hold on until April of 2019.
The tears of my despair are quickly dried by support from some and compliments from others. But I never forgot about that ever-present voice in the back of my mind telling me: "Ose tourner la page, c'est le début du voyage" (Dare to turn the page, it's the beginning of a journey).
I have always claimed loud and clear to be in love with my work. But there was the problem. As the saying goes: if you do what you love, you'll never work a day in your life. Yes, I loved it, and I had never considered the amount of effort nor the number of hours, days, years spent at work. I thought I was just there in passing, six small months, I was wrong. But it was time to put an end to this passion and give my notice.
This was the most perilous decision of 2018: daring to give up what I loved so much, the professional nest, so cozy and welcoming. Nurtured by assignments and encouragement, I had grown up there. Without ever having had the desire to fly away, for good. But I knew that my mental well-being had to come before anything else.
Resignation wasn't the final destination. On the contrary. While it tends to be the only way out, it can also become a gateway to a million new possibilities.Professionally fulfilled and personally renewed, I decided to go beyond the diktats imposed by society, to say "no" to the standard work model. I was ready to leave France, to trust (in myself) and believe in my future as a freelancer 👋
And what if I took advantage of these next months of travel to let a far-off project come to fruition? Maybe they would give life to a few pages? Because between writing and adventure, my heart found its balance. Passionate about words, I wanted to turn this trip abroad into the perfect opportunity to finally write the book which I had secretly, and quite often, dreamed about. It was official, on December 27th, 2018, I give myself / receive the most beautiful Christmas gift: my crowdfunding campaign, named #CiaoParisHelloBali, was set in motion.
9/ Freelancer in Bali but Far from Freelancer on Holiday.
March 5th, 2019: the start of my new life when I land in Bali. The joyless "eat-sleep-work-repeat" disappeared and in the space of just a few months it was replaced by the more joyous "laptop-croptop-flipflop".
Having just arrived, I let myself be guided by the best girl boss, Margaux. With both home and social media projects shared together, there I was on the freelance highway, with my foot on the gas pedal. I was riding the wave of happiness just as fast as I rode my scooter 🛵 I even add "Digital Nomad" to the license plate.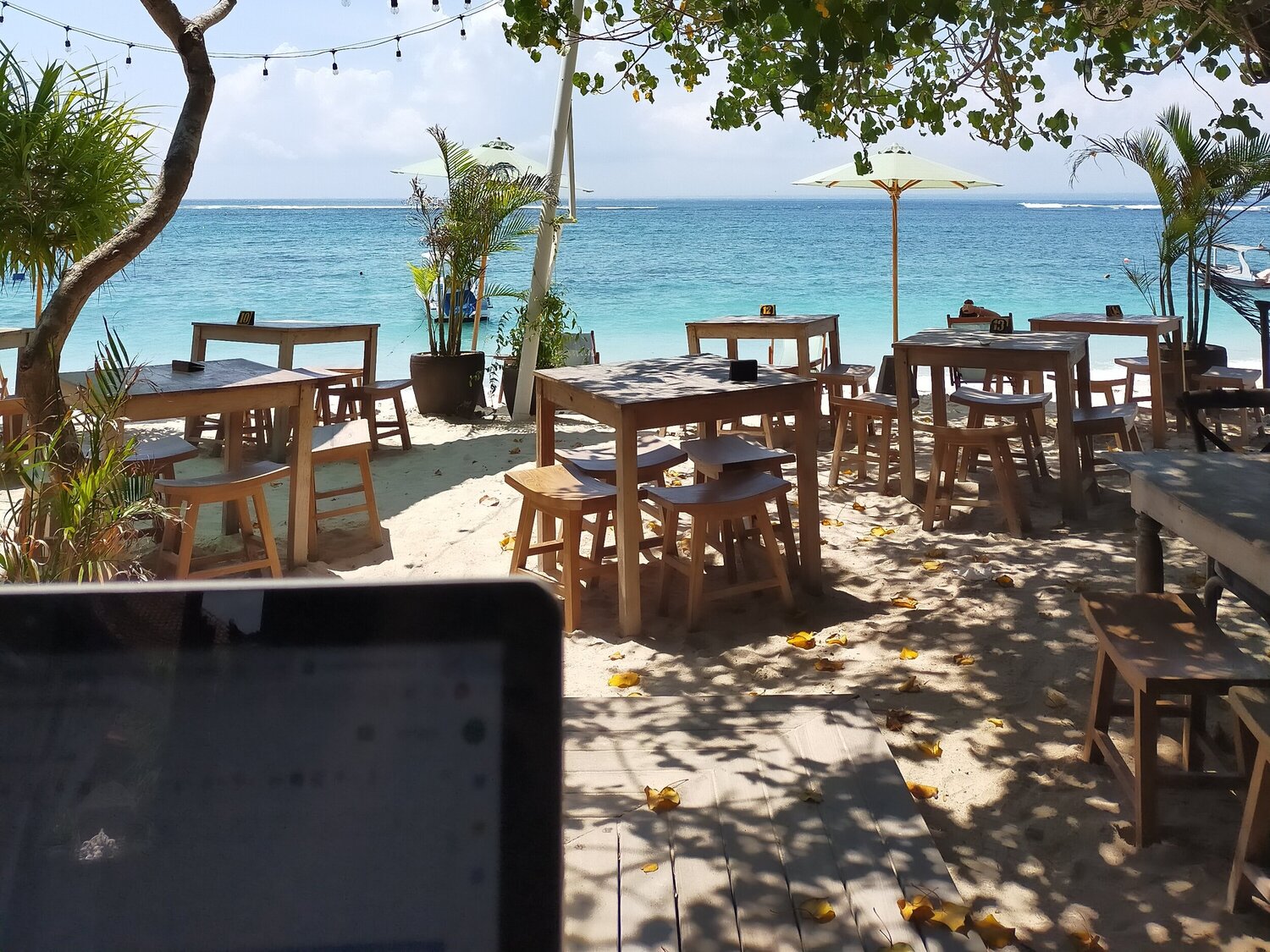 As I slowly relearn how to live life to the fullest, in the evenings I scribble on my notebook (and on the dedicated Instagram account) and my Come & follow me writing adventure begins. During the day, under the palm trees and in cafés, I fall in love with this new way of working.
From behind their screen, what the world sees is a tropical paradise straight from a postcard: white-sand beaches interspersed with blue skies and crystal clear waters, all sprinkled with iced coconut lattes and extraordinary sunsets 🌞 Yes, this was one part of my life, but it wasn't the whole picture. Because most of all, my days were punctuated with new skills to master, periods of high pressure, jam-packed schedules, unsigned budgets, nightmare WiFi connection and all-nighters (thanks to the time difference).
At any rate, digital nomadism inspires optimism. This way of working was more creative, more colorful, more collaborative, more enriching, more free, more thrilling and more free form.
10/ Digital Nomad: My Antidote in the Midst of a Pandemic.
In becoming a digital nomad, I automatically learned how to live with less. Less income, less safety, less security, fewer resources, fewer social events, fewer savings (the list is not infinite, but I could continue it with ease). I learned to live in the moment, prioritize my fanciful desires and played with hypothetical questions that started with "yes, but what if...?"
Strangely, the arrival of COVID did me a favor. At the start of 2020, I lost a few clients and projects and, as a result, some income. But you see, I quickly forgot about the pain of this when I started to drink from an energizing cocktail made from:
More free time, time spent outdoors, time spent in the water
More surfing, walking, yoga
More hot weather
More nature
More good food
More inspiration
More travel
More encounters...
This vitamin-packed drink that was so necessary for my mental health and replaced the one made from 100% anxiety that had been my go-to drink for years and years, the one I sipped at the bar of concern.
I learned to earn less (money), but to live more (simply) all while learning to give more (to children in particular, via the social community program "Un Euro Vaut Mille Mots" or "One Euro is Worth a Thousand Words").
Gratification has no monetary value. Enrichment is different and elementary, it is human, experiential, cultural. And if some people think that my daily life is diminished by professional ambition, I would say that, on the contrary, it is enriched by independence and sincerity.
11/ On the Horizon for 2021: Cultivating This Freedom, Living More and Working (a Little) Less.
Even though the cost of living remains low in Bali, I can't afford to go about my daily life without a certain amount of income. This is why I work full time as a Social Media Manager for clients in France and Portugal. When I have my "Studio des Beaux Mots" hat on, I also take spontaneous writing requests from individuals (biographies, articles, product sheets, press releases...).
This versatility I impose on myself is also very much a necessity because it is beneficial for my mind which demands to be permanently stimulated by extra obligations and projects. Client A's project combined with client B's latest campaign makes for the perfect recipe. This is how my brain starts to boil: words inspire me to go beyond the limits of creativity and, in turn, feed Come & follow me with unlimited ideas.
12/ Although Ultra Passionate, I Don't Consider Myself Ahead of the Curve.
After testing various freelance formats, sipping on stress overdose cocktails, juggling with repeated blunders and the overloaded calendar, I now want to make the most of my freedom, my tranquility, my work-life balance.
Without a doubt, the end of last year was as turbulent as it was painful for me. For many of us, 2020 has seen a slow and thunderous unravelling of our projects, our desires, our dreams 🌍 Since our life, as beautiful as it is fragile, can change at any moment, I started to understand how much the need to enjoy mine must take its rightful place again and again. It's time to appreciate life for what it really is, and not just for the image we have of it.
That's why I consider myself a freelancer who is rarely one step ahead. I follow trends without trying to be at the forefront. I don't chase after the most sought-after clients, LinkedIn isn't my hunting ground, I deleted TikTok the day I downloaded it and I canvass as much as I network: very little, if ever. I would no longer call myself a "Social Network Specialist" - unless I were suddenly transported back to 2015. However, I have always been an expert in storytelling and copywriting 🤓 I love words (this long article as testament) and I love to collect them, assemble them, make them rhyme. Today, my clients choose me for these skills and I sincerely thank them for their trust.
More than anything else, I prefer to take special care in the content I give them while making sure to put money aside in case one of them leaves me. But making the effort to canvas is out of the question for me because my current professional life suits me perfectly as is.
Between the ocean and my PC, between saltwater ripples and the waves of work, today, this work-life balance underpins my confidence, my freedom and my resilience, the magic words of my freelance status.
And if today I have the necessary confidence to use my words to confide in you, without filter and without fear, it's because I now know to what extent Lucien understands, supports and adds comfort to my daily work while providing a mix of flexibility (with France and Indonesia in different time zones) and transparency (if the waves are calling, our morning meeting may be postponed. The same goes for the WiFi, if it isn't working, neither can I).
Both during the week and at the weekend, in only two months, Bootkamps has already provided me with the ideal playground, flexible and versatile. While handling the communication side of things (Instagram, Facebook, Twitter et LinkedIn), I have had the opportunity to:
get familiar with the concept of training (confidence for confidence, I am aware of the benefits and the interest — even the responsibility 🙃 —of training. However, between thought and action, there is one hell of a bridge. One that I still haven't been able to cross. But now that Bootkamps is part of my life, it's time to brush off and further develop my skills)
fine-tune my writing (it's constant and demanding work, especially in terms of energy, and writing requires you to also read)
refine my soft skills (time management, decision making, entrepreneurship...)
place my human and moral values back at the core (right to happiness, better work-life balance, sincerity, respect, communication...).
Far from being a traditional company, Bootkamps is truly the hybrid model of tomorrow, combining quality, enjoyment, passion, efficiency and creativity ✨ 🚀